Chet Palaburn
Talk

0
1,956pages on
this wiki
"
Star athlete, class president, homecoming king... My high school sweetheart, and my first.
"

–Martha about Chet, Kill the Messenger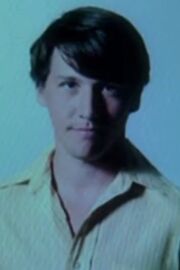 Chester "Chet" Palaburn was a former boyfriend of Richard Castle's mother, Martha Rodgers. Although he had married after they separated, he apparently told his children and grandchildren about Martha after his wife's death, describing her as the great love of his life.
After years apart, the two met again online after Alexis convinced her grandmother to set up a "MyFace" (the real social networking site's name is never mentioned) account, although Martha was originally reluctant to restart the relationship, given how much she had aged since the two last met. ("Kill the Messenger")
The subsequent relationship progressed well despite Martha's occasional uncertainties, due to her traditionally flighty nature having trouble settling down, with Martha being particularly touched when Chet revealed that he had kept a flower that she had given him years ago.
Chet proposed to Martha a year after their reconciliation, but although Martha accepted the ring, she admitted to having doubts about the relationship's future. However, she was never able to tell Chet her decision, as he died of a stroke the night after he proposed, Martha only learning of his death when she went to return his ring the following morning. Although guilty at Chet's childrens' assumption that she would have accepted their father's proposal, Castle assured her that Chet loved her with all her faults and would never have felt angry at her rejection of his proposal.
When Martha learned that Chet left her a million dollars, she briefly felt guilty over taking the money, but advice from Kate Beckett prompted Martha to use the money to open the Martha Rodgers School of Acting - reflecting that Chet had always admired her talent - with a portrait of Chet in the entrance so that his generosity would always be remembered.
Although Chet was mentioned frequently, he never appeared on-screen.