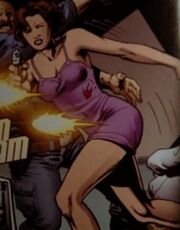 Clara Strike is a character in the Derrick Storm series of mystery novels by Richard Castle. She also appears in the comic book adaptation.
She is based on CIA agent Sophia Turner, whom Castle shadowed when he began working on the series ("Pandora"). In the plot synopses on RichardCastle.net, she is described as Derrick's CIA "handler", and appears in most of the Storm books.
Storm apparently dies in her arms in Storm Fall, but is later revealed to be still alive.