Famous Last Words
Talk

0
2,355pages on
this wiki
Famous Last Words
Season 2, Episode 7
Air date
November 2, 2009
Written by
Jose Molina
Directed by
Rob Bowman
Episode guide
Famous Last Words is the seventh episode of the second season of Castle.
Castle and Beckett investigate the murder of Hayley Blue, a singer in a popular punk band whose body was arranged to resemble a scene in one of the band's music videos. When the case stumps the two, Alexis comes to their aid, using knowledge gained as a fan of the band.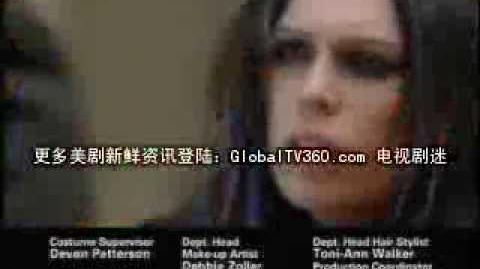 Main Cast
Edit
Guest Stars
Edit
Key Suspects/Killer
Edit
The killer is highlighted in bold.
Franco Marquez: Hayley Blue's stalker. Hayley's song, "Here, Kitty Kitty" was about the restraining order filed against him. He was arrested while trying to leave town by bus. He insisted he was running because of the evidence against him. The night of Hayley's murder, he was at home listening to Hayley's last performance over the web.
Zack Metzger: Blue Pill's guitarist. Known for a history of violent behavior. He was mad at Hayley for breaking up the band. Zack insisted that he was performing at a Sweet Sixteen the night Hayley was murdered.
Sky Blue: Hayley Blue's sister. Half drunk, Sky says she might have killed Hayley, but later says that all she did was telling her sister to drop dead. Castle concludes that Sky couldn't have killed Hayley because she was too wasted.
John McGinnis: Blue Pill's former manager. He lost the rights to the band name when Hayley broke up the band. With Hayley dead, he could get the band name back from Sky and reform the Blue Pill. However, his alibi was that he was in Philadelphia.
Bree Busch: Hayley Blue's producer and Ian's wife. According to Hayley, Bree represented a change that she was afraid of. Bree said that she and Hayley were arguing over her supposed drug-use, but insisted Hayley left the studio alive. A bullet hole in the studio wall seems to suggest otherwise.
Ian Busch: Hayley Blue's producer and Bree's husband. As Castle and Alexis listened to Hayley's last song, Threshold, they suddenly noticed the shocking lyrics, "you stepped across my threshold, how could you?" Listening to the song again, Castle realized that Hayley had revealed her killer's identity in the song, and it was Ian, not Bree. Ian claimed that Hayley had seduced him and he had forced himself on her. She had threatened to tell his wife, but Ian broke her neck to keep her from talking. He then staged the murder scene to make Franco Marquez look like the killer.
Castle (to Alexis regard Hayley Blue): Look, if there was any truth to it, I'm sure Detective Beckett would've called by now.
Esposito: Apparently, he likes to hit women...
Castle (to Beckett while looking at a photo of Zack Metzger): Look at this guy, if I were a woman I'd just... hit him back. Does he look like a killer to you?
Beckett: Everybody looks like a killer to me. Job requirement.
Castle: Do I look like a killer to you?
Beckett: Yes. You kill my patience
Featured Music
Edit
The position that Hayley was found is very similar to 'The Hanged Man' tarot card and is revealed that she was interested in tarot as part of the plot.
The name of the club where she played her final song was called "The Bitter End".
The name of the band, Blue Pill, is a reference to The Matrix.
While the investigation takes many twists and turns, it's ultimately the texts from Bree's phone to Hayley that incriminate Ian definitively, leading to the credit card receipt that linked him to the crime scene. These were requisitioned early on in the case, arrived in time to prove Castle's theory conclusively, and clearly identified the culprit and his motive. So in the end it didn't matter whether or not Castle decoded Hayley's last song.
The songs by Hayley Blue were voiced by Anna Waronker.
The name of this episode is a reference to a My Chemical Romance song of the same name.[

Citation needed

]
References
Edit