Kevin McCann
Talk

0
1,957pages on
this wiki
Kevin McCann, alias of Radford Hayes


Vital Statistics
Title
Kevin McCann
Full Name
Radford Hayes
Gender
Male
Status
In custody
Character Information
Appearances
"Setup"
"Countdown"
Portrayed by
Lochlyn Munro
Kevin McCann is the alias of Radford Hayes, a former black-ops agent who took the identity of Kevin McCann, a soldier in his unit, and took work as a cabbie in order to hide the fact that he was making a dirty bomb. He recruits his fellow soldiers, Evan Bauer and Jack Cochran, to help make the bomb and plant it in a US city in order to simulate a terrorist attack and stir up anti-terrorist sentiment again.
Former Syrian nuclear physicist-turned-immigrant American cabbie Amir Alhabi discovered his secret via surveillance devices, which forced McCann to kill Amir and rip out all of the cameras from Amir's cab, looking for more evidence that could possibly give his plan away.
A man scavenging for spare parts sees him and tells Kate Beckett and Richard Castle. When questioned, however, he tells a convincing story about Amir's brother Jamal Alhabi in an attempt to frame Jamal for the imminent bombing.
Once Castle and Beckett fall for his story, he's able to steal the dirty bomb from where Jamal had removed it from storage. Once the van arrived at his abandoned warehouse hideout, McCann and his accomplices kill Jamal and dump his body in a freezer, but they only do this just as Castle and Beckett stumble across them. Managing to herd them into the freezer, McCann and his accomplices lock the two of them within the freezer and disappear into the night. ("Setup")
After Castle and Beckett are rescued, they manage to discern McCann's true identity after
Mark Fallon
runs a search on his name, and discovers that the actual McCann had been killed in action several years back. Once they track down
McCann's sister
, she identifies the false McCann as his former teammate, Radford Hayes.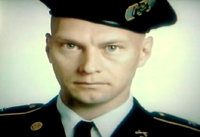 A quick sting operation later sees Hayes in police interrogation, where Fallon takes over the interrogation and tries to use intimidation tactics in order to have him give up the bomb's location. With Hayes' background in special operations, he doesn't talk.
Later, after the dirty bomb is defused, Fallon mentions that Hayes and his two accomplices would be charged with murder and promoting a terror event, though, thanks to Beckett and Castle, not hundreds of counts of murder. ("Countdown")