Kill Shot
Talk

1
2,448pages on
this wiki
Kill Shot is the ninth episode of the fourth season of Castle.
The team searches for a sniper who is terrorizing New York; Beckett tries to hide her worsening PTSD from Castle and the guys.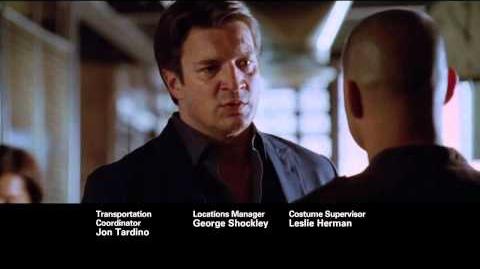 Main Cast
Edit
Guest Cast
Edit
Beckett(looking to Castle, Lanie, & Esposito): You guys, you don't have to avoid the word on my account.
Esposito: What word?
Beckett: Sniper?
Castle (looking to both Esposito and Lanie): Even I noticed.
Castle: We're gonna catch this guy.
Beckett: Yeah, like we caught the guy that shot me.
Featured Music
Edit
"B-Bang - Unreleased" - B.et.a and the Neon Panthers
This was the second to the last episode to air in 2011.
Early in the story, Beckett accuses a decorated war veteran of being evil and denies that snipers had any capacity to do good. The story ends when Esposito, himself a marksman, saves Beckett using these very techniques.
Beckett's final confession to her therapist essentially acknowledges Castle's critique of her in Knockout. Namely, that she let herself be defined by her mother's murder, was hiding from having real relationships because of it, and was afraid to find out who she'd be if she ever caught her mother's murderer.
This episode also further shows the extent of Beckett's PTSD, which Castle first notices in the opening episode of this season when a suspect points a gun at Beckett.
Continuity error: It is illegal for a bus driver to use his phone while driving a bus, so he probably wouldn't have answered anyways and probably wouldn't have had it up on the console. Also, buses have radios so the driver and dispatch can communicate. Even with it as loud as it was on the bus, the driver should still have heard dispatch trying to get a hold of him.
References
Edit