Limelight[1] is the thirteenth episode of the sixth season of Castle.
Summary
When a rising young pop star is found dead in an alley, Castle and Beckett delve into the victim's out-of-control hard-partying lifestyle, but as they dig deeper, a shocking revelation threatens to rock their investigation.
Recap
Promo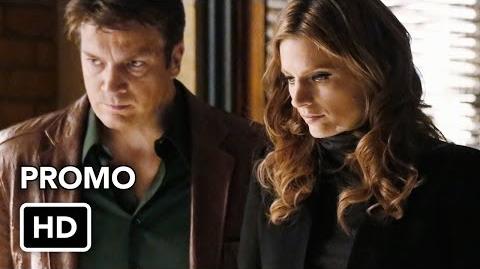 Cast
Main Cast
Guest Cast
Quotes
Castle: It took me less time to write the last Derek Storm novel and although both are works of fiction as least that one was believable.
Castle: Yeah, and just because I'm a public figure doesn't mean you need to be one too, I know.
Beckett: Exactly.
Castle: As long as you don't mind this sort of thing happening.
Beckett: I don't. 'Cause it's not true. And it only gives me more material to torture you with.
Castle: And the student becomes the master.
Beckett: Do you believe everything that they write in the newspapers?
Esposito: Hell no. I mean, except for that thing between Castle and his ex-wife, I mean…
Beckett: Where's Castle?
Ryan: He's having dinner with his other ex-wife. Something about her not wanting to feel left out.
Esposito: Good one.
Ryan: He's holed up in the break room writing that letter for Alexis' boyfriend.
Beckett: Thank you.
Alexis: The thing about my boyfriend is, I thought I was being so grown up, moving in with him, getting my own place, but now it's my whole life and I'm pretty sure I've made a huge mistake. Do you know why I'm helping him with his grant application? Because if he gets it, he'll have to travel.
Mandy Sutton: That is messed up. You need tell him.
Alexis: Tell him what? That I've changed my mind? I don't want a relationship? We have a lease.
Mandy: That's romantic.
Alexis: And he doesn't deserve it. He hasn't done anything wrong. Oh, and then there's my Dad. What do I tell him, huh? That he was right all along? That I wasn't ready?
Mandy: I wish I would have said that. I wasn't ready for so many things.
Alexis: Do you ever look back on something you've done and it's like someone else is doing it?
Mandy: You're kidding, right?
Beckett: Castle?
Castle: Hum?
Beckett: Should I be worried about your commitment to our engagement?
Castle: No, why?
Beckett: Because it says right here you're getting back together with your ex-wife.
Castle: What?
Featured Music
Trivia
In this episode, Beckett decides to announce to the papers her engagement to Castle.
At the end of this episode, Alexis expressed doubt about her relationship with Pi.
Beckett chooses to announce her and Castle's engagement partly because the newspapers were suggesting that he was getting back together with his ex-wife, Gina Cowell, who does not appear. The other part was because she wanted any story about Castle's love life to be about them.
References
Related links