Limelight
Talk

0
2,422pages on
this wiki
Limelight
Season 6, Episode 13
Air date
January 20, 2014
Written by
Rob Hanning
Directed by
Bill Roe
Episode guide
Limelight[1] is the thirteenth episode of the sixth season of Castle.
When a rising young pop star is found dead in an alley, Castle and Beckett delve into the victim's out-of-control hard-partying lifestyle, but as they dig deeper, a shocking revelation threatens to rock their investigation.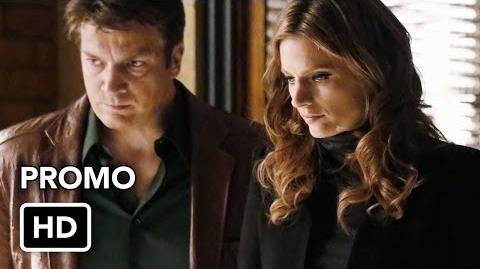 Main Cast
Edit
Guest Cast
Edit
Castle (Refer to Pi's letter): It took me less time to write the last Derek Storm novel and although both are works of fiction as least that one was believable.
Featured Music
Edit
In this episode, Beckett decides to announce to the papers her engagement to Castle.
At the end of this episode, Alexis expressed doubt about her relationship with Pi.
Beckett chooses to announce her and Castle's engagement partly because the newspapers were suggesting that he was getting back together with his ex-wife, Gina Cowell, who does not appear. The other part was because she wanted any story about Castle's love life to be about them.
References
Edit
Related links
Edit