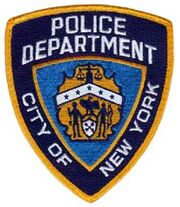 The New York City Police Department (NYPD for short) is currently the largest police force in the United States, with primary responsibilities in law enforcement and investigation within the five boroughs of New York City. The NYPD was the first police department established in the United States. It has its headquarters in Lower Manhattan, New York City.
Overview
The NYPD has a wide-ranging array of particular services, including tactical operations, K-9, harbor patrol, air support, bomb disposal, counter-terrorism, intelligence, anti-gang, narcotics, public transportation, and public housing
Known Personnel
External links
Ad blocker interference detected!
Wikia is a free-to-use site that makes money from advertising. We have a modified experience for viewers using ad blockers

Wikia is not accessible if you've made further modifications. Remove the custom ad blocker rule(s) and the page will load as expected.