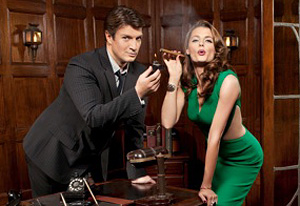 TV Guide's feature on Castle is out and includes this adorable Nathan Fillion quote:
The normally easygoing Fillion confesses to feeling frustrated by the lack of promotional love. "I dropped 60 bucks on the lottery [recently]," says the actor, who developed a cult following thanks to roles on such buzzy series as Firefly and Buffy the Vampire Slayer. "I didn't win. But if I did, my plan was to buy some commercials for Castle so you couldn't watch TV without seeing one. I believe people will listen if you tell them, 'This is a good show. Get in on it.'"
Read more from the article on their Website here or pick up the issue at the newsstand Thursday, Feb 24.
Ad blocker interference detected!
Wikia is a free-to-use site that makes money from advertising. We have a modified experience for viewers using ad blockers

Wikia is not accessible if you've made further modifications. Remove the custom ad blocker rule(s) and the page will load as expected.