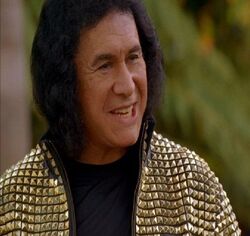 Castle is about to get rocked by legendary KISS frontman Gene Simmons .
TVLine has exclusively learned that Simmons will appear as his badass self in Castle's Los Angeles-set murder-mystery episode, set to air in early May.
Per an ABC insider, Castle (Nathan Fillion) and Beckett (Stana Katic) follow a lead straight to their victim's Beverly Hills home, which just so happens to be owned by the rock superstar.
Turns out, said victim had been living in the pad's guest house prior to the incident. After a quick chat with Simmons in his fictional Beverly Hills backyard, the crime fighting pair sets off to continue their trek through La-La Land.
Craig Ireland 03/04/2011
External Links
Ad blocker interference detected!
Wikia is a free-to-use site that makes money from advertising. We have a modified experience for viewers using ad blockers

Wikia is not accessible if you've made further modifications. Remove the custom ad blocker rule(s) and the page will load as expected.