Nikki Heat
Talk

0
2,448pages on
this wiki
"She's going to be really smart, very savvy, haunting good looks, really good at her job. And kind of slutty."
—Castle, about his new character
Nikki Heat is the lead character in Richard Castle's Nikki Heat book series.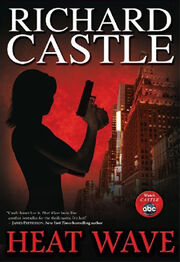 Heat is "loosely" based on NYPD detective
Kate Beckett
, possessing a similar backstory, in that her decision to become a detective was motivated by the death of someone close to her - although Heat has a niece and siblings that Beckett lacks - and the first case she investigates is adapted from several real cases Castle helped Beckett solve. Heat is assisted by her partner and sometime lover, journalist Jameson Rook. In addition, her colleagues Detectives Raley and Ochoa also work with her on cases.
Beckett discovers Nikki Heat and tries to make Castle change the name in the episode "Hell Hath No Fury," despite Castle's pleas about the potential titles offered by such a name.
The first Nikki Heat novel, Heat Wave, was released in the Season 2 episode "When the Bough Breaks". This was such a commercial success that Castle was offered a three-book deal to continue writing the series, with sufficient financial incentive that he put aside an offer to write books dealing with "a certain British secret agent". Castle's agent at the time, Paula, observes of the book and Beckett, "That's one hell of a love letter you wrote her." It was mentioned in the Season 3 episode, "He's Dead, She's Dead" that Castle's second Nikki Heat novel, Naked Heat, would be published soon. In the Season 4 premiere, "Rise", Castle was at a book signing party for the third book, Heat Rises, suggesting that it was released during the 2 month time jump in that episode. They are then followed by Frozen Heat.
Serial killer Scott Dunn became fixated on Nikki Heat/Kate Beckett after reading the book; FBI agent Jordan Shaw concluded that this fixation was caused because, like Dunn's habit of committing murder sprees to write about them, Heat/Beckett represented a detective who was both real and imaginary at the same time.
A movie was based on Nikki Heat's first book, Heat Wave. Nikki Heat was portrayed by Natalie Rhodes (played by Laura Prepon), but due to various issues (including Rhodes going to rehab), it was released straight to DVD.
Notes and Trivia
Edit
Nikki Heat's mothers name was Cynthia Trope Heat[1] and she was a piano tutor (Frozen Heat).
References
Edit