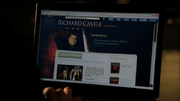 The official website, mentioned and seen in "The Dead Pool", where Castle posts his tour dates, upcoming releases and reviews of the works of others. When he feels betrayed by Alex Conrad, he logs in and plans to delete his laudatory 'Featured Article' review of Alex's novel "Dead Serious: A Mystery". Alexis manages to appeal to his inner adult, and prevent this spiteful act.
Ad blocker interference detected!
Wikia is a free-to-use site that makes money from advertising. We have a modified experience for viewers using ad blockers

Wikia is not accessible if you've made further modifications. Remove the custom ad blocker rule(s) and the page will load as expected.