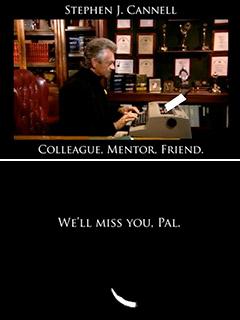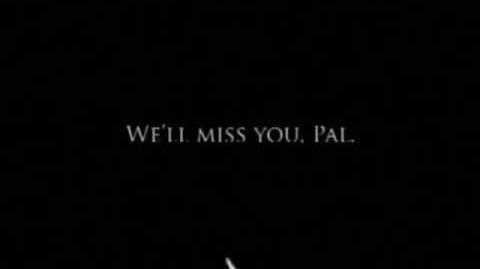 Stephen Joseph Cannell (February 5, 1941 – September 30, 2010; pronounced /ˈkænəl/, rhymes with "channel") was an American television producer, writer, novelist and occasional actor who is also the founder of Stephen J. Cannell Productions.
Personal History
Cannell was born in Los Angeles, California, and raised in a mansion in nearby Pasadena. His parents, Carolyn (née Baker) and Joseph Knapp Cannell, owned a chain of furniture stores.
Cannell struggled with dyslexia in school, but did graduate from the University of Oregon in 1964 with a Bachelor of Science in journalism. At UO, he joined the Sigma Chi fraternity.
Appearances on Castle
Cannell played himself as one of Richard Castle's poker buddies in three episodes.
After his death, the episode "Punked" ended with a tribute to Cannell in the form of a modified version of Cannell's classic sign-off.
In the episode "The Dead Pool", he is mentioned when the new guy, Alex Conrad, almost sits in Cannell's usual spot, the others saying that a seat must stay vacant for a year. to honor their friend's death.
External links
Ad blocker interference detected!
Wikia is a free-to-use site that makes money from advertising. We have a modified experience for viewers using ad blockers

Wikia is not accessible if you've made further modifications. Remove the custom ad blocker rule(s) and the page will load as expected.