Target[1] is the fifteenth episode of the fifth season of Castle.
Summary
In the first of a two part story arc, Castle & Beckett begin a murder investigation that also exposes a plot to kidnap the daughter of a wealthy Middle Eastern businessman. Dylan Walsh ("Nip/Tuck") guest stars as FBI Agent Harris, an even-keeled professional brought in to help find the kidnappers.
Recap
Promo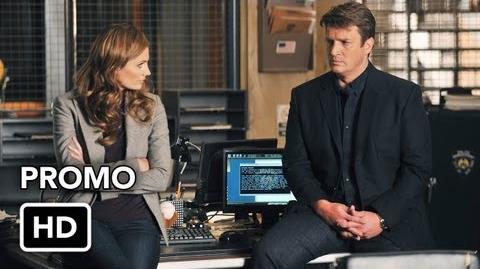 Cast
Main Cast
Guest Cast
Quotes
Castle: You're cooking. This could be a dream or a nightmare.
Martha: I choose to take the high ground and ignore that.
Beckett: Castle, listen to me –
Castle: Don't. Don't promise me you'll find her unless you can do it, because... I would never forgive you anymore than I'd ever forgive myself.
Castle: What's in the van?
Beckett: Castle, just please--
Castle: What's in the van?!
Beckett: Do you want coffee?
Castle: No, thanks. My adrenaline will suffice.
Beckett: The minute she knows, you'll know.
Castle: I wish that minute was now. It's all happening too slow and too fast at the same time.
Beckett: Tell me what happened with Douglas Stevens.
Castle: I appealed to his humanity.
Beckett: I didn't think you had that side to you.
Castle: When it comes to the people I love, I do.
Alexis: My dad taught me how to do this when he was researching for one of his books. He actually bought a door for us to practice on.
Sara El-Masri: This was recently?
Alexis: I was ten.
Sara: Oh, God.
Featured Music
Trivia
References
Related links
Ad blocker interference detected!
Wikia is a free-to-use site that makes money from advertising. We have a modified experience for viewers using ad blockers

Wikia is not accessible if you've made further modifications. Remove the custom ad blocker rule(s) and the page will load as expected.