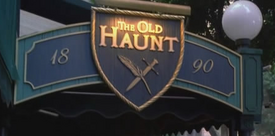 The Old Haunt
is an old-fashioned downtown New York bar, now owned by
Richard Castle
. First seen in "
Last Call
", the bar has been mentioned in passing several times since then.
The bar is a legend. Originally a blacksmith's shop, it later became a brothel and only became a bar during Prohibition, as a speakeasy. According to Castle, all the great writers drank there. Castle himself wrote most of his first book there, and only stopped going after his daughter, Alexis, was born.
After the events of "Last Call", it has also become a favorite hangout of Ryan, Esposito, Beckett and Castle after Castle bought it in order to save the bar from going under, with the captain joining them on at least one occasion. Ryan has discovered a route that gets them from the precinct to the bar in eight minutes.[1]
In season 4 Cops & Robbers, it is mentioned that they still go regularly there.
In the season 6 Valkyrie, Beckett and Castle discover the thieves left the building through the sewers after remembering the secret entrance to The Old Haunt. When Beckett gets her job at the NYPD back, Castle announces that drinks at the Old Haunt that night will be on him.
Staff
Features
Current owner
Previous owners
References
Ad blocker interference detected!
Wikia is a free-to-use site that makes money from advertising. We have a modified experience for viewers using ad blockers

Wikia is not accessible if you've made further modifications. Remove the custom ad blocker rule(s) and the page will load as expected.