Under the Influence
Talk

0
2,465pages on
this wiki
Under the Influence is the eleventh episode of the fifth season of Castle.
When an up-and-coming DJ is killed at a pop star's album release party, Beckett and Castle must dive into the raucous world of New York's music industry. Then, when the investigation leads to a troubled teenager, Esposito takes the kid under his wing, hoping to put him on the right track before it's too late.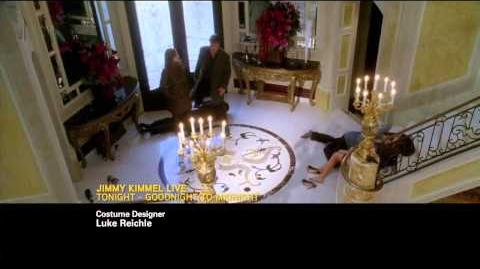 Main Cast
Edit
Guest Cast
Edit
Castle: In a relationship, if you choose a movie and you choose very, very poorly, do you lose your turn?
Esposito: How poorly?
Beckett: Valentine's Day.
Esposito: You should lose two turns.
Esposito: Aw. Dude, you remember that music video where she was dressed up as a sexy little Girl Scout? I don't care what those cookies cost, I would sell my left... (gets a jealous glare from Lanie)
Ryan: Anyway, she was booked at the party until 1:00am.
Beckett: Where's the host?
Castle: Forget the host. Where's your pants? Nah, I've been there. Check by the pool.
Joey Malone: Hey, where's the super hot detective? (referring to Beckett)
Esposito: You're looking at him. Don't laugh. I was featured in the NYPD calendar.
Featured Music
Edit
In this episode, the dead body breathes. It's only shortly on-screen, but visible as you can see the chest movement.
Actor L.T. Tolliver who plays NYPD Uniform Officer referred to as LT made another uncredited appearance, his character was watching Joey Malone in breakroom before Esposito came into the room.
This is the first time Esposito's apartment been show on Castle.
We learn that Esposito's parents divorced when he was 5. His father remarried and moved with his wife to Florida, and after his father moved he had very little contact with him.
Esposito had a juvenile record from 1989 that included assault, resisting arrest, and unlawful possession.
Esposito mentions owning Assassin's Creed 3, but suggests Joey put it on "dual player mode" with Joey replying that Esposito "wouldn't get past level 1".  The game's multiplayer is online-only (meaning a two-player game can't be played on a single console) nor does it use levels in the traditional sense.  The error is particularly jarring for anyone who's played the game and could have been fixed by using a different game that has both features.
In one scene Castle comes to Beckett with coffee but if you look on her desk she already has a cup that is still warm. (You can see the steam coming off it)
References
Edit