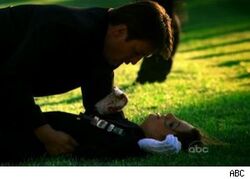 Please relax everyone! After last night's explosive finale, it sure looked like our Kate died in Castle's arms as he tearfully told her he loved her and asked her not to leave him (could your hearts just break??). And while producers of Castle and ABC aren't answer any questions about Kate's fate, I think it's safe to say that she's wounded and not dead. Stana Katic has already signed on for Season 4 and they can't kill off half of Castle!
Meanwhile, the Season 3 finale, Knockout shattered ratings off the roof! With 13.2 million viewers, it was Castle's second most watched episode ever and the second highest rated show of the night.
Let's celebrate that Castle is one of the most successful shows on TV with ever-growing audience; it's not easy to capture the fickle attention of TV viewers these days! And let's bid a fond farewell to Captain Roy Montgomery, who bravely died in Beckett's stead last night. You will be missed!
Breaking! Breaking! Check out what Ausiello had to say about the shooting!
Dot No. 1: Beckett was shot near the heart.
Dot No. 2: Beckett's ex, Josh, is a cardiac surgeon.
Dot. No. 3: In an interview withTVGuide.com, the show's EP, Andrew Marlowe, all but confirmed that Victor Webster would be back next season. "He's still out there, and he's somebody we're going to have to deal with," Marlowe teased. "He's an element moving forward and it'll be interesting to see how that functions."
Ready. Set. Connect!
Source

Kate.moon 22:44, May 17, 2011 (UTC)
Ad blocker interference detected!
Wikia is a free-to-use site that makes money from advertising. We have a modified experience for viewers using ad blockers

Wikia is not accessible if you've made further modifications. Remove the custom ad blocker rule(s) and the page will load as expected.