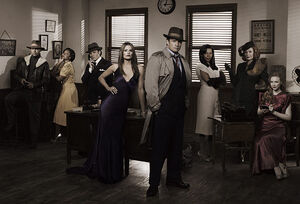 Are you excited for Castle Season 4? Just wait until you see these noir-themed posters for the upcoming season! Dressed like vixens and detectives from an Old Hollywood detective show, Beckett and Castle are heating up the shot. And Beckett looks alive and well, thank goodness!
Check out their individual pictures below! With a shakedown in hierarchy for the upcoming season and rumors of a new love interest in a sexy journalist for Castle, what will happen next?
Gallery
Ad blocker interference detected!
Wikia is a free-to-use site that makes money from advertising. We have a modified experience for viewers using ad blockers

Wikia is not accessible if you've made further modifications. Remove the custom ad blocker rule(s) and the page will load as expected.