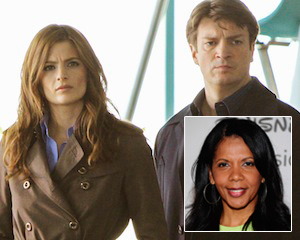 RIP Captain Montgomery. New captain, new era! The new female captain, Victoria "Iron" Gates is said to be a hard-ass that gets in the way of Castle and Beckett...but not as a sexy love triangle. Rather, she doesn't see the value of Castle and wants him gone from the precinct!
The actress Penny Johnson Jerald reveals her character's feelings about Castle:
"My side of it is, 'Why is he here?'" Jerald explains with a chuckle. "He's not a police officer; he's an irritant. But it's all those wonderful little nuances that make for great television."
Will she try to have Castle removed??
"Even believing and wishing he wasn't there is pretty much diminishing the presence of someone," offers the actress. "She doesn't see his value yet, but perhaps [it] will come to light. And even then, maybe she won't even [admit] it!"
Who wouldn't fall in love with Castle...? While I don't approve of anyone who doesn't love Castle, this just may add another layer of juiciness to the show because the new Captain won't allow any of the sexy tension that Castle and Beckett deal with on a regular basis.
"She's on to it… Oh yeah," Jerald says of the partners' unspoken yearning to be partners. "[But I'll have] none of that in my precinct."
What will happen next season!? Perhaps Castle and Beckett will have to "resolve" these tensions.
Source
Ad blocker interference detected!
Wikia is a free-to-use site that makes money from advertising. We have a modified experience for viewers using ad blockers

Wikia is not accessible if you've made further modifications. Remove the custom ad blocker rule(s) and the page will load as expected.