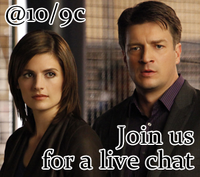 Castle premieres tonight! Join us on our special
Live Chat
to discuss the show as it airs. It's going to be a shocking start to what's set to be an interesting season. Does Beckett take the job and deny Castle's hand in marriage? Or does she keep her old job and take her relationship with Castle to the next level? Let us know your thoughts in the chat!
See you there!
---
---
Ad blocker interference detected!
Wikia is a free-to-use site that makes money from advertising. We have a modified experience for viewers using ad blockers

Wikia is not accessible if you've made further modifications. Remove the custom ad blocker rule(s) and the page will load as expected.